Seventh Calling - Prelude to Madness (EP)
After the official 2007 full lenght album Monuments and a following EP the US Metalheads from Las Vegas Seventh Calling deserve us another 3 track EP titled "Prelude to Madness". The album cover designed by guitarist Alex Ritchey appears really darkful but eyecatching and doesn't promise much happiness in the music. But...there are a lot of clown bands around..so we don't need another.
The band tells us the heroes Iron Maiden or Judas Priest as their influences, but also harder bands like Slayer. So this sounds interesting to me and we will start now direct into this EP album.
...and it starts with power ! "Deliverance" shows classic guitar riffing in midtempo. The first thing that impress is the deeper held vocal work of Steve Handel. Parallels to old school US Metal bands from the 80's can be found. Seems that the band has their roots here. The drums are mixed more in front and leans the band a very powerful sound. In this song there is not a real chorus but some background vocals let the voice performance appear more variable. Very good ! More faster in tempo is the next song "Blood of the divine". Double bass drums and excellent twin guitar work in stakkato style forward the song. The main theme of this track is very dark. A little weird but genius guitar solo of Alex Ritchey rounds up this smasher. 4 minutes of pure heavy metal..without compromise...hitting directly your necks. This is how metal has to sound.
Drums and guitars open the last song "Lost". It lies between midtempo and speed. Steve Handel performs more aggressive here, mainly in the chorus. A nice guitar solo, again a little extraordinary, underlined with huge rhythm guitars carries the song which is much too short with its 3 minutes. Here the band could have arranged some more minutes to bring this song to a real classic.
But for an EP this is enough and so we can say that this 3 track output shows us how the bands sound is. For sure, with 3 songs you cannot find out the complete knowledge of a band to play, but "Prelude to madness" is worth to listen to and an appetizer for more outputs, that hopefully will arrive in the future.
But where were the influences of Slayer? I didn't find out.....

Points: 7,5 / 10

review by Kerb

Learn more about this band (click here)


---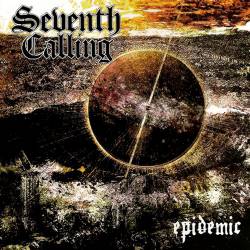 Seventh Calling - Epidemic (2010)
Las Vegas old school metal band Seventh Calling released now their next full length album "Epidemic". This is the first one for their new label Heaven and Hell Records. What catches your eyes first is the dark and endtime album cover that don't suggest any good vibes. Is the new album darker than the outputs before ? We will find out....
"Test of time" immediately starts with a huge riff. Speedful song with vocals that remember to old german heroes Running Wild. And this is also what I would call that song...running wild. Old school metal riffing without bigger breaks. Straight and powerful. This is a first statement where the journey goes.
Very heavy riff opens "Paid in blood". Steve Handel performs with some higher vocals here. This gives the song a little hectic sound. The song is more held in midtempo with twin vocals shouting the song title. A first longer guitar solo, well played, appears before the main theme ends it.
"Rising against" is a riff monster par excellence. Drums pushing the song into a speedster with great refrain. Another big guitar solo in Judas Priest style makes the shot, so this for me is the first real highlight of the album. Metal Church meets Judas Priest meets own ideas and trademarks. Great song !!
Following is the title track. Iron Maiden like guitar lines start up the "Epidemic". And again...the vocals are near to Rock'n Rolf of Running Wild. Fast song, wild, chaotic, the drummer has a lot to do. The song slows down a little for the guitar solo, only to raise speed again. What I have to say is that the band is really playing true metal, not over produced. Like it was recorded live in the bands practice room. Honorable work without any compromise. It is a pleasure to listen to cause of its old school vibes.
"Ignite the fire" points again with huge riffing and a mix of dark and higher vocals. A real smasher. Straight forward, no time for looking back. A killer guitar solo explodes in the middle of the song. This is an intermezzo from the left to the right speakers. Does anyone know the old 80s US Band Griffin? That's what this song remembers me to. It makes me sentimental if I think back to that time, thank you Seventh Calling.
Take care...it's time for the "Death Dealer". Big scream from Handel in the beginning. The song is speed at start and its getting even faster every minute. Cool guitar arrangements, sometimes strange, sometimes well known. This is nearly thrash metal.....Testament, Exciter..to name a few. Very aggressive and therefore not easy to listen. Anyway...cool song.
No time to breathe..."Fractured" strikes the audience in the same way. No...this is not an album for the ladies. An album recorded from men for men. This song is held from midtempo to speed. The vocals are in the same height all the time, except some short high screams, for that a little boring. The guitars do the main work and are also in best Griffin tradition. Not the best song of the album.
Time to slow down ? No...."Tyrannical reign" is even faster than all the songs before. With its 3 minutes a shorter song, but not very spectacular in the arrangements. It seems that in the end the band was losing the ideas. Again the guitars keep the level high with a wizard solo. There is no changing in tempo or heights. Fast but a little uninspired.
But....here it comes. The last song is also the longtrack of the album. And this means...epic !! "Beyond (the wicked lies)" starts with elegian guitar lines and spoken words. Soon the typical heavy riffs appear and the song moves to the well known trademarks. Midtempo, riffing, traditional metal vocals. Some guitar arrangements and solos interrupt the scene. At this point I won't forget to say that the musicians all now how to play but for the guitars collect the big points for Seventh Calling. So it does in this song. Even in its length we can find out that this is a real guitar song. Steve Handel has his parts in between this six string groover, but mostly only for a short time. Yes...this song describes best what the music of Seventh Calling stands for.
With "Epidemic" the band continues their way that they showed with their last EP "Prelude to madness". Handmade and true heavy metal in old school US style with amazing guitar works and powerful arrangements. 2 or 3 fillers less and this band has to reach the top in this genre. I am hopeful for the band and the works that are coming next.
Points
8/10


review by Kerb
---
Add comment to this page: