Saxon - Innocence is no excuse (1985)
In 1985 the british Band Saxon released their 7th full length album "Innocence is no excuse". This album was the bands first try to conquer the american market which should continue with the next two releases "Rock the nations" and "Destiny". The sound was polished for airplay on the great US radio stations but anyway...this album owns lots of the old trademarks to make it as one of the better Saxon outputs.
Starting with the drum oriantated stamper "Rockin' again". Great riffing metal guitars meets the power of the drums. A real hymn that can open every Saxon concert to bring the masses on temperature at once.
"Call of the wild" has everything to hit the charts. Characteristic stuff for 80's hardrock airplay. Melodic lines, strong chorus refrain. But we should not forget the great guitar work that made the sound of Saxon from the beginning..and so also on this album. Same to "Back on the streets". Also new food for the singing crowd. The chorus is performed with a little more street credibility as the song before but also a great radio smasher. I think Biff Byford never sounded clearer than on this album.
With "Devil rides out" the band makes a step back into the past. Typical old school Saxon song. A little chaotic in vocals and one of the harder album tracks. And that is exactly what the album needs before "Rock'n Roll Gypsy" apeears as a mixture of old and new. Old school Saxon vocals and melodylines meet the sound of the middle 80s. A big hit single for Saxon if we look back.
What follows now, at that time the b-side opener of the vinyl, is a kind of song we never heard from Saxon before. "Broken heroes" is a anti-war semi ballad at its best. A tragical, monumental song with heartbreaking vocals and chorus and a guitar line in the end that can make you cry. Mighty, sad but true. Wonderful arrangements that leave you behind thinking about life.
After this it is not easy to come back to keep the album high. So the band decided to fill the rest of the album with groovy, uptempo songs like "Gonna shout", which is the easy listening song, "Everybody up" and "Raise some hell". This songs are not bad but in the album overview they break the quality and cannot be told as Saxon classics. "Give it everything you got" ends the album in speed mode. Cool song for kick you out.
If we look back we can say that "Innocence is no excuse" could stand the test of time and is right named as a real Saxon classic. The more modern sound was a fresh element and the songwriting was as good as ever. Much better than in the next two follow ups.
Saxon didn't really earn the success that the band maybe expected, but anyway they created another great album.

Points: 8/10

review by Kerb


---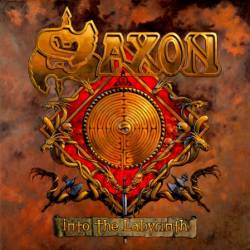 Saxon - Into the labyrinth (2009)
Since the 70's a constant in traditional metal the brith honourables
Saxon
publish their 18th studio album
Into the Labyrinth
.
As we could name the 2004 album
Lionheart
a real band classic this album cannot keep the standard of that output.
The album starts unusual with strange Keyboard lines that part time remembers me on
Nightwish
before it leads to the normal
Saxon
direction with a brilliant hookline. Battalions of steel is a nice, old school heavy metal song with epic touch. Following is a stamping riff rock song called
Live to Rock
that remembers to old Solid ball or rock times. The keyboard samples have even a touch of
Bon Jovi
's Bad Medicine. Instead of the opening tracks this song is losing weight. You could say this is songwriting in safe waters of old band classics. After this follows
Demon
Sweeney Todd, the first filler track of the album. Standard riffs, well known songwriting and a refrain that seem we heard that from
Saxon
a lot of times. Really uninspired. And the refrain looks like that it was stolen from the german band
Rage
(straight from hell). Next the acoustic The Letter that leads in Valley of the kings. A song with a brilliant refrain and a surprising stamping midpart. More songs like this one could have been make this album to a band classic. But the Slow Lane Blues stops that opportunity again. Not so bluesy like the title says but only a nice solo is not enough for a good song. Hooklines that carries a brilliant song are missing here. A little irony is that the riff in the following song Crime of passion sounds more blues orientated than Slow Lane Blues. But again the hooklines dont work. More another filler than an upcoming bandclassic. Premonition in D Minor is a short musical intermezzo - not more, not less. It leads direct into the light song

Voice
. This song I think will not make it into the live shows for sure, but for me it is better than some songs the bands wrote for this album. Protect yourselves start with a heavy riff and brings the listener back to better moments in band history but in the end the song ran out unspectacular. Same to Hellcat, heard thousand times and the refrain cannot make it to be remembered.
With the last song Come rock of ages the band finally attacks and bring
The Best
song (together with Valley of the king) at the end of the album.
Sorry
Saxon
, but this album is not more than ranking in the lower fields of the band discography. Miles away from a classic. 2 or 3 songs that could be remembered in the next years are not enough to climb higher fields. Only another
Saxon
album.

Points:

6/10



review by Kerb


---
Add comment to this page: