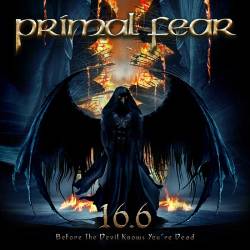 Primal Fear - 16.6 (Before the devil knows you're dead)
Randy Black hits out thunderously on the drums while Wolter & Karlsson serenade Ralf Scheepers story telling vocals of metal fighters. Guitars intertwine in a rolling solo section. It's no wonder that Ralf was a contender to replace Judas Priest's Rob Halford after he left. The metal gods played their hand and with the cards on show
Primal Fear
are flying high
Riding The Eagle
.
Eastern strings into angry guitars until Scheeper settles the band down to a power ballad. The mission of death unfolds as Karlsson moves between guitar and keyboards. No one can escape the
Black Rain
as we all are defenceless under orders from our generals!
Theatrical start leading into a blistering attack from Wolter & Karlsson. The anchor hear is Ralf's vocal performance who then steps aside to allow the band to ride off on a musical tangent. If you're a shred head who likes a rest in the mosh pit then
5.0 / Torn
is for you.
Primal Fear's
message is simple "Is there anybody out there who cares about what we are doing to the world?"
Primal Fear
is not scared to try out new sounds and
Soar
is a reflection of the bands needs to move forward. Throughout the album I have heard a recipe of influences but it is hear that they allow the listener use their imagination.
Killbound
pulls no punches from the opening riff. Ralf Scheepler uses the power of his voice as he moves between deep growls of dissatisfaction to ear splitting highs.
I find myself pulled towards the faster more rock-oriented songs.
The Exorcist
takes the fight to beast. Full on supremacy from
Primal Fear
Over all an enjoyable album that comes packed with outright rock songs with a splash of Prog.
(I added this comment because I grossly underestimated this band and album. It is truly fantastic and I can't stop listening to it) that is enhanced by Randy Black pushing them forward.
Points:
7/10
review by Daz
---
Add comment to this page: