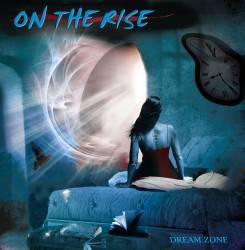 On the Rise - Dream Zone
On the Rise is a band project from Norway which was founded by mastermind Terje Eide. His musical background is going back to the 80's as singer/songwriter and with Dream Zone he released his second full length album. Terje is responsible for the lead and backing vocals, all guitars, bass and keyboards. So we can call this a One-Man-Project with some guests as musically support.
The album starts with "Lifeline". A melodic guitar line underlined with Mellotron keys before the vocals in tradition of Toto or Survivor set in. This shows that we are moving in AOR fields. The voice is clear and high, but not too cheesy. Twin guitar harmonies bring a warm melodic feeling. The keys in the back support the guitars instead of bombastic domination. A nice refrain rounds up that well done opener. 70's start in "Lost your track". This song remembers me a little bit to old Triumph or Harlequin, if maybe someone remembers this canadian bands. Real good guitar work in different styles and full of harmonies. A harder guitar start in the title track "Dream Zone". Twin vocals in lead and backings dominate this song. This song is played a little faster without losing it's high melodic level. Magnum I would name as influence for that song. What is that ? Thunder? Yes, a roaring thunder opens the ballad "Edellyn". This is a typical AOR ballad with acoustic guitars, piano and sweet and warm vocals. This song breathes the will to live and the will to love. Edellyn...your smile makes my world go round....yes. Listen to this song if you feel bad and you soon will feel much better, I promise you. "Alive" opens up with some keys and again a harder guitar part. The guitar is played with hooks so for me is has even a small Saga touch. Twin guitar solo together with some keys in the middle leading again to the refrain in the end, a refrain that is not bad, but also not a one to be remembered. "In the line of fire" start with a small spoken word intro. Soon the song becomes another melodic grooving track with a good refrain and real handmade guitars. In the end we can hear a helicopter start. Next is a pure Hard Rocker called "Get out of here". Straight song in midtempo with twin vocals and backings in the refrain. Short guitar solo before the refrain is replied more often to end this song. Good guitar hookling starts "Fly away". Really melodic vocals as harmony line and in the refrain, supported by partly elegian guitars. This could become the band's hymn. Easy listening but with high rememberance effect. "No time to lose" points with his positive vibes. Happy song. Some noisy guitar parts bring a new element in the sound of On the Rise. Anyway, this is adult orientated rock, but it should be heard from everyone. Synths effect starts "Why wait another day". This is a mix of ballad and faster played song. Small synthies and a bit of rougher vocals can be heard if you listen seriously. Wonderful guitar solo part in the middle and shorter in the end breaks the melodic refrain sing-a-long. Yes, the guitar saves this song, the vocal arrangements sound a little suitable. Drums and guitar solo opens "Tomorrow never dies". Strong twin vocals, amazing refrain. Underlined with keyboards in the background. Sometimes the guitar arrangements surprise and bring fresh elements into the band's sound. "Howling at the moon" begins silent and mystical. Slower solo vocals with acoustic instruments change into the refrain with more power, but with wonderful melodies. For me one of the best songs of this album. "Find a way", the bonus track of this album, is another straight AOR rock song. It has all what we expect from that kind of music. Melodies, harmony vocals, a refrain that you can sing with, short guitar solo. A short piano parts ends this song and this album.
I don't know why, but On the Rise remembers me to canadian bands most. Bands like Triumph, Harlequin, even some Saga and Rush.
And this for my opinion is not the worst reference for a band that plays AOR music.
If you like good arranged, melodic rock songs you should give this project a listen.
Terje Eide did a great job, if you know that this guy did all (or most) of the arrangements and instruments by himself. Norway, welcome to the melodic universe. You can see me impressed.

Points: 7/10

review by Kerb

Learn more about this band (click here)
---
Add comment to this page: