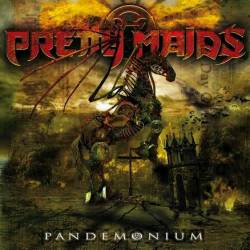 Pretty Maids - Pandemonium
After a while of silence and four years after the last, polarizing studioalbum "Wake up to the real world", there is now new food for Pretty Maids fans with the bands newest output "Pandemonium".
The carousel of band membership was spinning a lot but the main line with Ronnie Atkins and Ken Hammer still exists. It will be intersting if the changes of bandmembers give the band a fresh aura and if there are new inputs for the band with that.
It all starts with the title track "Pandemonium". Short intro before a typical Pretty Maids keyboard storm appears. Very powerful song based on Ken Hammer riffs in alliance with keyboard leads. Near to Royal Hunt style. But the typical Atkins vocals prove that Pretty Maids is working here. The chorus is good and some smaller breaks only interrupt the pumping effect of this opener short. Well done, I would say.
"I.N.V.U." starts with a short slow part before a killer riff grows. This is a more slow song caused of clean vocals and a refrain full of harmonies. Again we can say that the musicians with leader Ken Hammer bring a lot of power into the song. Musically on highest level, melodic everytime but very very powerful. If this will continue we will have here an album in top class which will also find friends in people who ignored Pretty Maids in the past.
"Little drops of heaven" opens with light synthie sounds. Ok...here it is...the first semi-ballad. Very nice melody line that every interested lady should like. The refrain invites us to sing. A well known guitar solo typical for this genre rounds up this future hymn.
With "One world, one truth" the band forwards the power again. Here we find strong vibes of glorious "Future World" and "Jump the gun" times. This means typical Pretty Maids trademarks.
Changing of clean vocals and shouts, painting keyboard. I have to say that keyboard player Morten Sandager sounds as he would have played with Pretty Maids ever. Also new drummer Allan Tschicaja seems to be a good one and leans the band that powerful sound that you need to break out of the masses of melodic metal bands.
"Final day of innocence" is pure melodic hardrock.Very catchy with wonderful keyboard sequences. This is the right one for adult orientated rock ladies based on a knowable refrain. This could be a radio single.
Harder and faster again the next title "Cielo drive". The vocals remember me here a little bit to Alice Cooper. Good hookline, well played. A short and intensive guitar solo rounds up this smasher.
A stamping rhythm opens "It come at night". Ronnie Atkins tries to bring some dark vibes into this song, and he makes it. Fantastic midtempo song in change with more queit sequences in between. Only the mouth drum that we know from some Bon Jovi songs doesn't really fit with the track. Anyway...cause of the more Pretty Maids untypical elements an interesting song.
"Old enough to know" is a classical semi-acoustic song, performed balladesque. Why does that say to me that I should wear my cowboy boots ? Oh...I don't own some. Not bad, but definetely not the best song of the album.
More in older Pretty Maids appears "Beatiful madness". Nice refrain, driving hooks, Ken Hammer solo...this song has it all. Straigh song like we know it.
The last song "Breathless" brings the ladies again back to track. A ballad for the hearts with a too cheesy refrain. A power smasher would have been better to end the album.
In the end there is a the bonus track "It comes at night" in a remix version that we don't have to comment cause there are not many differences to the main song.
I proudly can say that Pretty Maids found the way back in line. Some smaller fillers but all in all "Pandemonium" is a real good album. In case of the last album a progression of many steps. The long break made the band fresh up.
Welcome back to rock !

Points: 8,5/10

review by Kerbinator
---
Add comment to this page: