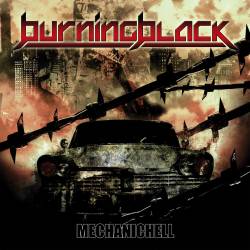 Burning Black - Mechanichell
After the 2008 album "Prisoners of steel" the italians Burning Black deserve their next Powermetal output. "Mechanichell" is the title and I have to say that this guys know how to produce fresh, ear catching and not in any minute cheesy powermetal.
And the cash is payed soon with the instrumental intro "Reckoning day". But there is a lot more class in music. With "Our silence" the band bombs our ears with amazing riffs that should make every fan of Teutonen-Metal smile. Also the vocals of Dan Ainley sets my metal heart on fire. A voice easy to remember, nice screams, yeah that's it ! The titletrack "Mechanical" is even convincing me more, wow. "Purgatory child" starts mainly with keyboards the rhythm guitars take over soon and the song becomes a mid-class song with a short guitar solo. Not bad, but not the best. The quality is growing again with "Secrets to hide". I like the song structure here and the following amazing refrain a lot. "Reborns of my sins" is powered again with the wonderful screams of Dan and don't let get the song a boring one. Thats cause the guitar solos are placed at the right times. The uptempo track "Hero of the century" brings you to sing with and to bang your head...what can we want more?? OK...free beer maybe, ha ha. Cheerz!
Damn, I wish I could sing like that south european. On "Dangerous game" he cuts brilliant voice lines into the wood again. Ralf Scheepers of Primal Fear is greeting cause of the great work of this italian metal god. This is premier metal league. The song "Dust and rain" could be also on every Primal Fear album. Following is the darkest and most aggressive song of the album. "Messengers from hell" is my personal favourite song of Mechanichell. On one side cause of the vocals. Painkiller looks around! On the other side the drums that hit here spectacular hard and at least the guitarsolo and the refrain. The album will be finished with the semi ballad "Victims and tortures".
My last words: Buy this album...don't steal it !!

Points: 8,5/10

review by Metalvurry

Learn more about this band (click here)
---
Add comment to this page: