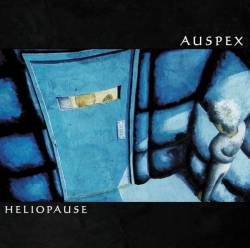 Auspex - Heliopause
Heliopause is the second full length album of french progsters Auspex after their 2007 release Resolutio. On their bandinfo Auspex tells that their music will paint different pictures, sometimes dreams, sometimes nightmares and the vocals will play different roles in characters of the progressive music dimensions Auspex call their own.
That sounds exciting, so lets find out if Auspex can prove this excitement.
The first things that impress are the ambient, blue style cover artwork and some strange song titles in the tracklist of Heliopause.
So the "Electric Sheep" starts with melancholic piano/bells duet building suspense with the appearance of the other instruments. Finally this intro...is it really an intro, because the female vocals of Elodie appear for the first time?...leads to "Silence". Hectic keyboards and drums base this. The vocals of Elodie are warm and sensitive. It stands against the speed of sound. Different interruptions with sound collages and balladesque vocals underline the progressive touch in the music of Auspex. There is not really a refrain. As I said....a really speeding song. For my opinion the guitars are too far in the back and so that steals the song a bit of his power. Anyway...good arrangements with lots of different keyboard varieties. Epic song.
"I walked awoken on Titan" opens with choral and speech part. The instruments sound a little weird and disharmonic. Again their are church bells like in the first songs. Is this a kind of trademark for Auspex? It describes the dark and melancholic touch of the tracks. Some choir parts versus solo vocals before a guitar solo breaks into the sound wall. In the end the song fades out relaxing.
Dreamy and playful begin even with a spinett in "In through the looking glass". This is fantasy. Again a faster song. Sometimes I can hear out some old IQ (80's progressive heroes), sometimes some Devil Doll (does anyone remember those?). A nice guitar part in the middle defends the orchestral strings and piano/keys colour stains. In every second there is another element you have to explore. That makes the music of Auspex not easy to listen to. This album takes your time so that your are able to explore this music. Elodie's vocals above the musical adventures that keyboarder Jean-Yves and the rest are telling you. Often it sounds disharmonic but the seperate parts are building together a conceptional work of art.
Piano starts again in "The Pulse of Emptiness". Warm guitar hookline to follow. Elodie, what are you doin' there. She brings in some parts that make me laugh. Not often but for me not on the right place...sorry. This song is more in progressive rock than in progmetal. All in all speed and elegian parts collide. Hear the solo vocals / piano part. Definetely not made for radio charts. I am wondering how the band will play all this arrangements live on stage. Maybe I can find that out sometimes.
I really don't know the title of the next track, cause it is written in foreign signs (arabic words?). And so the vocal language in this song is from a foreign land. Only vocals and piano supported by some drumlines and bass. That could be a traditional from that land....I don't know. For me it sounds like a song you will perform for youd kids before they go to bed. Not a bad idea to put a song like this in the middle of that album, but it is really outstanding to the rest of Heliopause.
After this a song called "0-1-0-1 (and so on...) appears with guitar riffing and anchorman voice of Elodie. Hardest song so far. This song makes you afraid, but some well known clean vocal parts heal you. Really epic in the end with wonderful guitar themes.
Following is "Ad astra per aspera". We are back in the same style like the first half of the album. In the balance between midtempo and speed. Keyboard carpets overwhelming you. Male vocals appear in alliance with Elodie. Lots of breaks and changing tempo. Percussional sequences with flutes and other instruments. Church organs together with keyboards, deformed vocals. This song is really progressive. Guitars are more in front this time, but finally they don't get a chance to break out cause of the ruling keys and synths.
"Resolutio" is the last song of Heliopause and with it's more than 10 minutes it is the longtrack of this album. Acoustic guitar part and elegian vocals in the beginning. Guitar and synth lines to follow. In the tradition of old progressive bands like IQ, Pendragon or Galahad. But after 2 minutes the song changes to a more metallic song. Good hooklines, straight but not easy. Well this is the guitar song....yeah. Now the guitar players Lionel and Arthur can prove their knowledge. A really sad vocal and piano part interrupts the scene. This song is an epic monument. Full of great arrangements. Wish Elodie could bring more power behind her vocals here. So we can say that Auspex bring the best song of the album at last. And here for me the band paints the pictures they told us. Between dreams and nightmares. A silent piano makes you think the song is finished...but there are 2 more minutes to go. But...nothing more happens..what a bummer ! Damn, I want a great final. Anyway...cutting the last 2 minutes this song is he bands masterpiece.
Auspex, for sure, is not a band you should listen to in your car or if you are doin' housework. You need time to find out all the facettes the songs will deserve you. I am not sure, if the band can be successful with that kind of music. But it seems that Auspex are not interested in doing what others want them to do. They celebrate their own sound universe, love it or hate it.
I for myself like their music cause of their many different arrangements. Some things could be have done better, like the guitar sound and sometimes the power in Elodie's voice.
But....if you like really progressive music, more neo classical than alternative, you should give Auspex a deep listen.

Points: 7,5/10

review by Kerb

Learn more about this band
---
Add comment to this page: