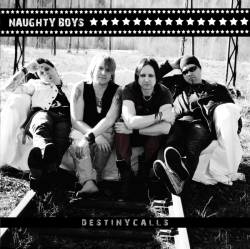 Naughty Boys - Destiny calls
The Naughty Boys long awaited second album Destiny Calls hits the stores on 9th September 2009. Are they as bad and naughty as they make out?
Ho my god what do we have here? Power, power and more power takes you to hell and back. Destiny Calls is full of old school riffs yet the Naughty Boys keep you hooked. Vacant's power bass no, Olsson's lead no, Sandvik vocals no, its the drums no. Hell, you listen to Destiny Calls and you tell me what is blistering about this 3-minute pure rock anthem.
Walk Away if you can but it will be your lose. Valentin lurks in the background with a Hammond style keys. This is classic rock by a new and fresh band that kicks you in the ass for your attention.
My heart is pumping like a rabid dog then Sandvik screams. The Naughty Boys are under my skin and Endless Pain has me throwing my laptop from knee to knee. True rock, big guns, pumping beats and love.
Don't Turn Around brought me down; if this is their take on a ballad the Naughty Boys still rock.
Naughty Boys mix things on Light Of The Day. You will hear classic riffs, new age metal fills but the clincher is the arrangement.
Eternity is the ballad with a beautiful piano throughout and Sandvik vocals shine. Olsson's guitar is harsh in places but this is the Naughty Boys doing what they do best and that is rock.
Woo is that not Led Zeppelin? No my mistake as Broken moves through tenderness and pain. It's an orgy of sounds that has the stamp of the Naughty Boys this will be the one that all guitarists want to learn.
Time please gentleman? NOT. The drums along with a fantastic sounding bass carry you forward. Sandvik's vocals are earthy which seems to suit him best yet the cocktail has been perfect throughout.
It's another pumping, knee jerking laptop track Head Held High. Olsson lead work is full of feeling that will have air guitar freaks emulating him throughout the world.
Love Runaway Train with its rock steady beats, Hammond keys and guitar work that is out of this world and that's before the guitar solo.
Fly With The Angels is a classic.
How am I to work under such conditions where the band simply rocks my world? It's not fair that one band can have so much talent within them. The Naughty Boys rock simple as.

Points: 8/10

review by Daz

---
Add comment to this page: