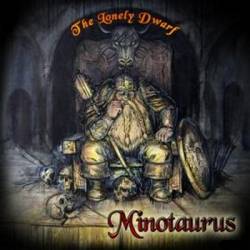 Minotaurus - The Lonely Dwarf
5 years after their second album "Myth or Reality" the celtic folk rockers Minotaurus from Aschaffenburg/Bavaria deserve their next menue "The Lonely Dwarf". This third output is an improvement in all sections. Kai Stahlenberg of Kohlenkeller Studios/Darmstadt has given the album a good powerful sound.
Starting with "Illusions".Goin' direct to the ears. A good opener and in the end with guest vocals of Chris Bay (vocalist of Freedom Call). This song even made it to the compilation CD of Sonic Seducer magazine issue september 2009. "Fighting for nothing" is lead by a strong rhythm change that becomes in the end to a track full of harmonies. Up next the titletrack! Solo entrance for guest vocalist Sabine Cristal leads to a duet with Minotaurus shouter Olli Klump. The song becomes a great power ballad. For this song "The Lonely Dwarf" the guys also packed a video as bonus on this CD. The song is also the title track for a Short-Cut film persiflage of "Lord of the Rings".
More infos about that on www.erlebnisfilm.de.
"Dark Ruler"is one of the bands darkest songs they ever wrote. With amazing vocals of Olli and background vocalist Julia Feser, this song could have been a real hit performing live on stage. Party on dudes ! After that an instrumental called "Ouroboros" follows. Killer! "Holla die Waldfee" is the trademark for the band, their warriors call. The bands first song with german lyrics brings you to sing with 'em and drink. The ballad "Edge of a rainbow" means a silent episode to dream, before "No return" appears with all the trademarks of Minotaurus, chorus sing-a-longs, rhythm changes, twin guitars. "Feels like coming home" simply bring good feeling vibes, that mostly belongs to a come back. After that the galopping forward song "Rainbow to the future" brings us back on track and an instrumental version of "The Lonely Dwarf" ends the album.
OK, quality needs time and the folk metallers from bavaria invested in that. With the new members Hagen Fitz on drums and Julia Feser as background vocalist the band landed two big points.
One..two..three...Holla die Waldfee!

Points: 8/10

review by MetalVurry

Learn more about this band (click here)
---
Add comment to this page: