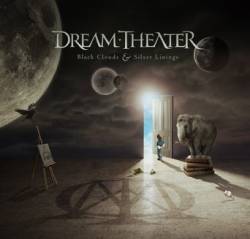 Dream Theater - Black clouds & Silver linings
I had the pleasure of seeing Dream Theater at Leeds and I have to say I have never seen a band that can sound as if you are playing their albums. Lets see what the Black Clouds & Silver Linings holds.
Ambient nightmarish keys set the picture of A Nightmare To Remember. LeBrie adopts a more aggressive approach than usual. The story takes you through the recollection of a road traffic accident. Anyone who has been there, done that, will be familiar with the shock, disbelieve, anger and remorse of dealing with their emotions. Dream Theaters take of the events is portrayed with sweet harmonies and disobedient melodies that depicts the songs implication.
Opening with John Myung bass riff that with the first listen you think he has hit a bum note. This Prog rock out fit seems to have moved towards the more mainstream metal end of their take on music. This track shifts in and out of down right aggression to sweet melodies and James LaBrie's gruff 'n' silk vocal is nicely placed throughout. Enter John Petrucci smooth yet disjointed guitar lead only to be answered with Jordan Rudess and his superb keyboard reply. A Right Of Passage guarantees to rock you.
Wither is straight into harmonious vocals with a ballad style structure. Dream Theaters love affair with tangents is replaced with a succulent piano and vocal mid section. Petrucci lavishly excels and shows why he is one of the world's best guitarists. This is a song full of feeling.
Rudess playing on The Best Of Times is beautiful. Petrucci enters with a classical guitar that makes your heart melt. Then the crossroad appears where the serenity is replaced with a rush of time. Reflections of the past drive this song into different expression. If there is such a thing as an intellectual song this is it. Well executed.
The Count Of Tuscany is an epic at just over 19 minutes. This has the flavourings of Rush with guitar runs and Portony's fills on drums. The Dream Theater signature is then placed well and truly at the letterhead and no one does it better than this.
Black Clouds & Silver Linings sees Dream Theater moving towards a heavier sound. It has its tender side that are skilfully added to songs. Dream Theater fans will love the album and it will attract attention from the metal heads out there. An excellent album that everyone should own.

Points: 7/10

Review by Daz

---
Add comment to this page: