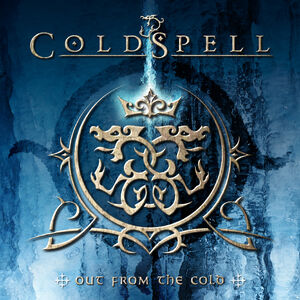 Coldspell - Out from the cold
Second release of swedish melodic rockers Coldspell after their great debut "Infinite Stargaze" from 2009. Some Line up changes had to be done on drums and bass but this shouldn't influence the quality of the bands music. The album was mixed again by Tommy Hansen who worked with bands like Helloween, Jorn, TNT or Pretty Maids. That means we can expect a good production.
Ok..the meal is done....here are the ingredients...
Short spheric intro with children words opens the album with "Heroes". Cool riff before the melodic but powerful vocals of Niklas Swedentorp appear. The refrain is short but good to remember. Michael Larssen plays a typical hardrock guitar style here, straight without useless frickeling. Good opener without any surprise in style.
"Run for your life" starts faster with a concise guitar lead. Keyboarder Matti Eklund plays the hammond in the back and the refrain again is typical for melodic bands. You always can sing and remember this. A first guitar solo appears in this song and some synthie sound gimmicks do the rest. Straight song with some fine nuances that keep the song variable.
Great riff in the beginning of "One in a million". Sensitive vocals heighten with power to the refrain. Don't hesitate...that's what Niklas whispers in between the melodic guitar lines. No we don't. The base of this song lies in the refrain that shows up more often. A simple arranged hardrocker. Easy to sing and easy to remember. Think thats the bands goal in writing songs. Not bad.
Heavy riff in "Six feet under". The vocals are near to Europe in this song. The "hey – hey's" in the refrain even leans that track a little touch of 80's glam rock bands. A bit of dirt, a bit of spandex trousers. Yeah...we are back when the hairspray was the most valuable thing in bands lives. Rock'n Roll feeling....a nice new element in the sound of Coldspell. Great.
The bells are knocking....cause it's "Time". Speedy start before the vocals changing tempo but getting faster before the refrain again. Nice refrain in best hardrock style. A melodic guitar solo interrupts the scene. New drummer Perra Johanson has a lot to do in this song and he does a good job. Good rockin smasher mostly with twin vocals. All what a 80's hardrock heart need to survive.
Again a heavy riff opens " Save our souls". But slow vocals breaks this. Another hammond elements sometimes in front sometimes in the back appear. In this song the band leave their way of straight arrangements a little bit. More confusing guitar licks and vocals makes this song a little crazy but good alternation to the guitar-refrain-guitar formula which is the main part of melodic bands.
Balladesque beginning of "The King". Violins in the background and silent keys make this song a tragedy touch. After 2 minutes the track moves to a straight rocker. Wonderful vocals, epic instruments, great refrain and a perfect semi-ballad guitar solo before it fades out slowly like it started.
Rock'n Roll is back with "Fate". Dirty played guitars, hammonds and shaking head vocals are the essence of track number 8. Straight rocker with a streets flair. You will stamp your feet listening to that for sure.
A little bit faster but in the same line is "Seven Wonders". Hard Rock that breathes the vibes of the80's. The guitar solo remembers a bit to Dokken in the early years. Again straight played with nice refrain.
"Angel Eyes" - first if I saw this songtitle I thought this will be nothing but a ballad. But...metal riffing appears. Ok...the vocals slow it down and let it become a mix of melodic rock and metal elements. So it is far away being a ballad. Powerful harmonies, some Van Halen- guitar licks and vocals again near to Europe. Not bad...but there are definetely better songs on this album. Well played....but like heard million times.
Now we are "Heading for Tomorrow". Real guitar and bass song. Again it remembers me to Dokken cause of the vocals and refrain. Heavy Rock with pumping bass, hammonds and stamping drums. Niklas Swedentorp tries to perform more aggressive but cannot hide his clean vocals. Well...he is a real melodic vocalist who is not here to express aggressions. Anyway...good song with some crazy arrangements.
The titletrack rounds up "Out from the cold". And it is..wow...a very hard song. Metal guitars, power drums, background keys. I think this is the hardest track of the whole album. Riffing meets brilliant vocal lines. It seems that Coldspell put the best song at the end. Changing tempo, some different sound samples but based on pumping guitars, bass and drums. Killer track !!
Now as we finished this diner we can say that Coldspell made it to release a good follow up to their debut album. Mainly melodic the band worked out some good arrangements to make this album varied and not boring. We will see if the band can breakout of the amount of melodic bands.
This album has all the elements that this could happen. Watch out for Coldspell !!
Good appetite !!

Points: 7,5/10

review by Kerbinator


---
Coldspell - Infinite Stargaze
The band Coldspell was founded by guitarist and songwriter Michael Larsson in 2005. They are from the land of snow and ice and where lots of amazing bands appeared in the last years...from Sweden. And Coldspell is a huge part of it. The other bandmembers are Matti Eklund (keys), Niclas Swedentorp (vocals), Tommi Partanen (bass) and Tobbe Broströn (drums).
Infinite Stargaze is the bands first album and hit the music scene like a bomb.
It starts furious with "Keep to believing". Very straight and melodic with the appetite for more.
And you won't be disappointed. "Solid ground" is a song for the people who like it harder and faster with good riffs and awesome guitar sequences.
And then there is "Ravin mad". What a hammer ! The best song for me of the whole album. Dynamic, a little bit of breathing dirt and with all it's changing of tempo only one word...first class !
That's how a good rock song has to be. "Straight thing" is a song where you cannot do any other thing than move your feet and shake your head.
The more silent song "Eye of the storm" starts with classic sounds before heading to power. Not a usual ballad for sure...but a kind of. And the album moves on with mixes of all that characteristic elements. I could write something about every single song, but the best is...you listen to it by yourself. Coldspell don't have to hide behind the big names in this genre. The play extraordinary first class Hardrock. Every little thing fits to the main sound. I would even say they leave some well known bands far behind. I can't wait for their new album that will be published in August and would like to see them live on stage. I am very impressed about that album and hope you will be too.

Points: 8,5/10

review by Angel

Learn more about this band (click here)

Band Interview (click here)


---
Comments on this page:
Comment posted by Anthonyfes( anthonycag

mail.ru ),

19.07.2017 um 22:10 (UTC)

:
benefits of buying cheap college essay online
<a href=http://writingservicestop.com/>online essay grading system
</a> buy term paper
<a href="http://writingservicestop.com/">how do i quote a website in my essay
</a> essay for scholarship mara

---
Comment posted by Anthonyfes( anthonycag

mail.ru ),

18.07.2017 um 17:42 (UTC)

:
best site to buy essays
<a href=http://writingservicestop.com/>definition essay on friendship
</a> my doggy ate my homework poetry
<a href="http://writingservicestop.com/">natinal geographichomework help
</a> why do i love my mother essay

---
Comment posted by Designer iPhone 7 Plus Cases( ),

19.01.2017 um 03:04 (UTC)

:
Apple fills up your space very quickly forcing you to buy iCloud storage. So you may want to keep a copy of your files on Dropbox or Google Drive
---
Comment posted by Lyrica sig( sef

blackseo.top ),

20.11.2016 um 02:29 (UTC)

:
<a href="http://buyprednisone.party">buy cheap prednisone</a>
<a href="http://buypermethrin.party">buy permethrin</a>
<a href="http://buycipro.party">buy cheap cipro online</a>

---
Add comment to this page: