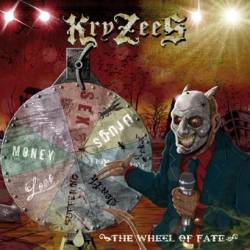 KryZees - Wheel of fate
Two schoolmates with a passion for music have an idea in 2001. Playing to family and friends they kick out some rockin' tunes from Metallica and Deep Purple. They took on the world at the "Glanum Rock Festival" France in 2002 under the banner of O-ZONE. Line up and name changes followed until 2007 with the release of Wheel Of Fate album. So does this France outfit still have the hunger?
KryZees power through Bleeding Life from the start with licks galore from Damien & Axel. Laurent has a punk edge to his vocals with screeches of harmony crossing to a rock delivery. F. A. Q. is KryZees speciality.
KryZees do not mess about as its straight into Headbanger. Here Lauret reminds me of the Dead Kennedys vocalist Jello Biafra, he uses his voice to excellently execute the feeling of the Headbanger's. Sebastien takes charge by running through power bass rifts and Pierre brings it all together. Would you like this noise as I do?
Destiny's opening has to be heard to believed. Anger, energy and questioning from the band.
I love the creativity and simplicity of the sound. None of the polished techniques or high tech sounds here. Red revenge shows that the KryZees are not scared to use disjointed musical styles.
What is this? Judgement day is the maturity of KryZees as the arrangement is different to the rest of their songs but is less intense. A little cleaner and allows Sebastian and Pierre to work out while guitars sit back and chill. Ok, there are times where they intertwine.
It is unusual to be able to here all the instruments from a band but Kryzees rocks is an excellent example that some of the major bands should take notice of.
Back to my life again they have a sound that is to die for. Punk attitude with the talent of Black Flag and Metallica. That's how crazy this band is.
True bass and drums from the start of The Believer. Who is the master in this band? Who cares with an imagination like this set of French men? Pure raw talent.
The Wheel of Fate metal in its purest form. From a metal point of view this is there strongest song but does not show the true depiction of the bands capability. KryZees are adding a twist to the meaning of metal with this album.
Fantastic recipe of riffs, bass runs, drum passing and vocal styles on Trick or treats. Laurent decided to hang up his guitar for vocal duties and this album is an example of great decision-making.
KryZees's are rough, ready and in your face attitude. Yet they have the fanes and maturity of the enemy within! From a humble start KryZees kick some serious ass while pushing forward with an awesome barrage of sound. Is it naive, cheesy, pedantic, genius or simplicity? Hell it's fantastic.

Points: 6/10

review by Daz

---
Add comment to this page: